Embark on a journey into the realm of entertainment with the 2023 edition of our guide showcasing the Best Unlinked Codes. Specifically curated for FireStick and Android TV, these codes promise a seamless integration with an array of Amazon FireStick models – from the Lite to the Cube, Fire TV, Android TV, and Android TV Box.
With FireStick's inherent lack of a built-in browser, the Downloader app steps in as an essential tool for sideloading. Yet, the task of entering extensive URLs using a remote control can prove to be cumbersome. This is precisely where the brilliance of apps like Unlinked shines through, streamlining the sideloading process and significantly elevating the overall user experience.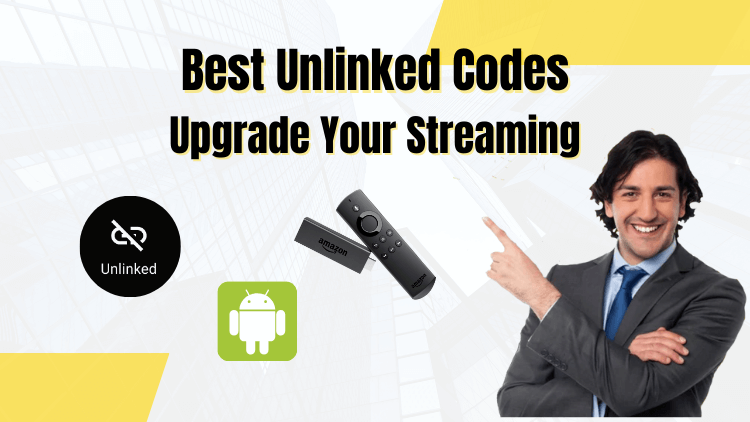 What is Unlinked?
Unlinked is a tool enabling users to sideload apps onto their FireStick devices, offering a practical alternative to Amazon App Store downloads. It grants access to a diverse array of apps not found on official platforms. Through generated codes tied to specific apps or repositories, users effortlessly download and install their preferred apps. While Unlinked doesn't host the apps, it streamlines the installation process, providing flexibility and convenience for users to augment their streaming experience.
What are the Best Unlinked Codes?
It's worth mentioning that the Unlinked app does not host or offer any downloadable apps or services directly. Instead, it relies on Unlinked codes to enable the downloading and installation of popular streaming apps and tools. These codes act as access points to the desired apps, allowing users to conveniently obtain and install them on their devices.
Note: In order to access the codes below, you must first install the Unlinked APK on your Streaming Device. Like Free Movie Streaming Sites, the availability of Unlinked codes can vary over time, with some codes becoming inactive or no longer accessible.
At the time of writing this article, the Unlinked codes provided below are verified to be working and available for use. However, it is important to note that these codes may change or go offline in the future.
iviewHD IPTV Friendly Reminder: It is recommended to use a VPN when using various Unlinked codes. This will conceal your streaming activities, maintain your anonymity online, and safeguard your privacy and security.
Related reading: 
The Best Unlinked Codes
12341234
EB2E4A4C
90D311FE
67664537
710AB04D
7cd6a4f1 (Pin: 911911)
Superapps (Pin: 911911)
Code: 96960000
Let's explore their features and characteristics one by one to help you better understand them.
Code: 12341234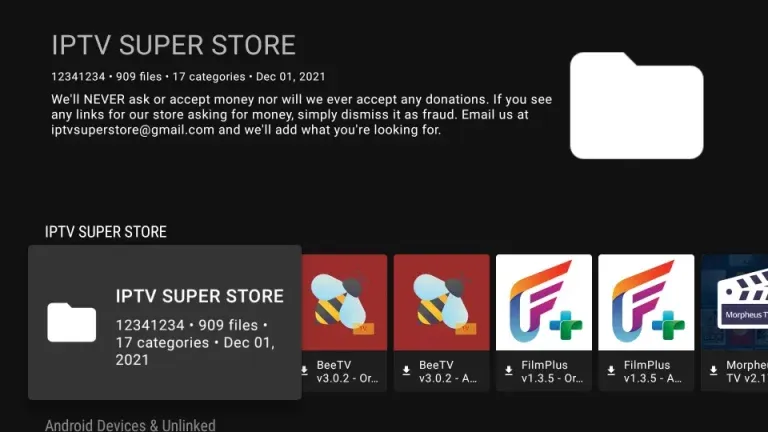 Code 12341234 stands out as one of the best Unlinked codes due to its extensive library of high-quality apps. With a total of 893 apps divided into 19 diverse categories, it offers a wide range of entertainment options. Some notable apps included in this code are Cinema HD, IPTV Smarters, Wolf Launcher, Kodi, Syncler, Stremio, Ocean Streamz, Strix, APKTime, and many others.
With such a comprehensive collection of apps, code 12341234 provides a convenient one-stop entertainment solution for users.
Related reading: 
Code: EB2E4A4C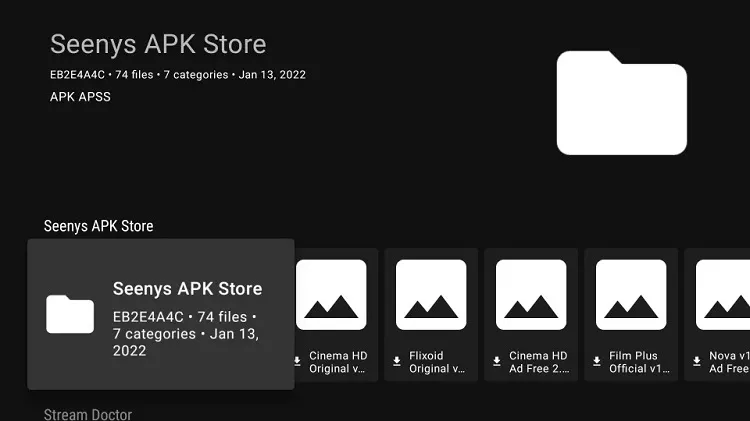 This code provides access to Seenys APK Store library, which includes over 70 applications categorized into seven different categories. These categories encompass Movies/TV Shows, Live TV, tools, Browsers, VPNs, Music, and YouTube.
Code: 90D311FE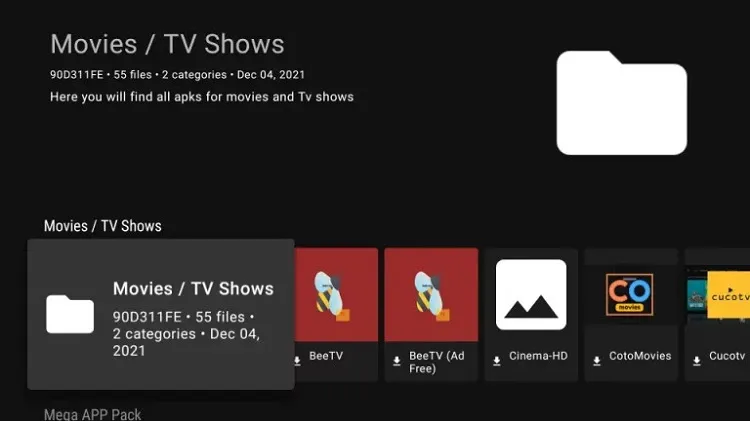 The Unlinked code 90D311FE allows you to access the app library created by a developer called Oztech3000. This store is excellent for movies, TV shows, and anime lovers, as all 48 apps are in that category. Here, you will find popular as well as more obscure apps for streaming films and series. There are a few duds, but most of the apps are still working. Some apps here include Anime World, Viva TV, Bee TV, Film Plus, ZiniTevi, Live Net TV, and Nova TV. Oztech3000's library also comes with several modded versions of popular streaming apps that are free of ads.
Code: 67664537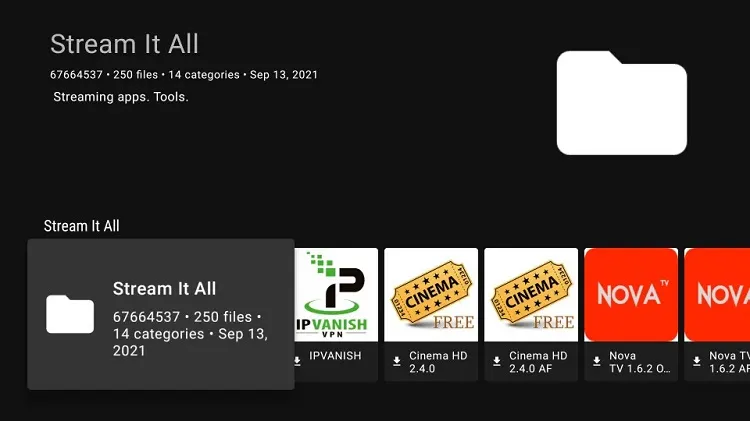 This Unlinked library is called "Stream It All" and contains some quality applications. They also have a quality FileSynced store.
The popular apps within this library include TeaTV, Cinema APK, Dofusports, MediaBox, Rokkr, Smart YouTube TV, and more. The code Stream It All offers more than 250 applications. These applications are divided into 14 categories to make them simple for the user. It provides various options, for example, on-demand content like movies and TV shows.
Code: 710AB04D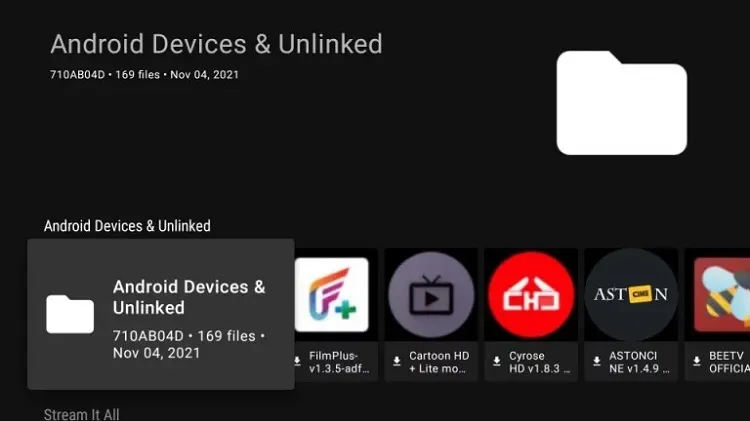 Here is our next code with 164 apps that you can download for your FireStick device. However, the disadvantage of this library is that there are no file categories. Thus leaving the task on the user to divide and search categories.
The code contains exciting applications for movies /TV series, kids, anime, IPTV, media players, and utilities. Furthermore, this code is called Android Devices & Unlinked.
Code: 7cd6a4f1 (Pin: 911911)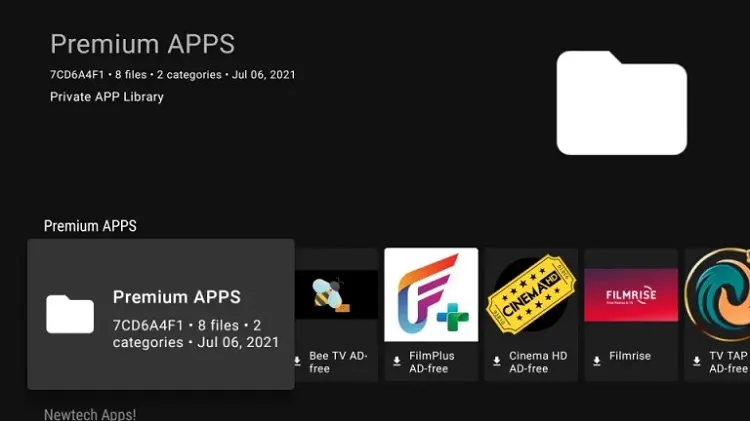 With this code, you gain access to a collection of 29 apps conveniently organized into seven categories. The available categories include Movie/TV Show Apps, Live TV Apps, Kodi, FireStick Tools, Ad-Free Movie Apps, and Ad-Free Live TV.
Code: Superapps (Pin: 911911)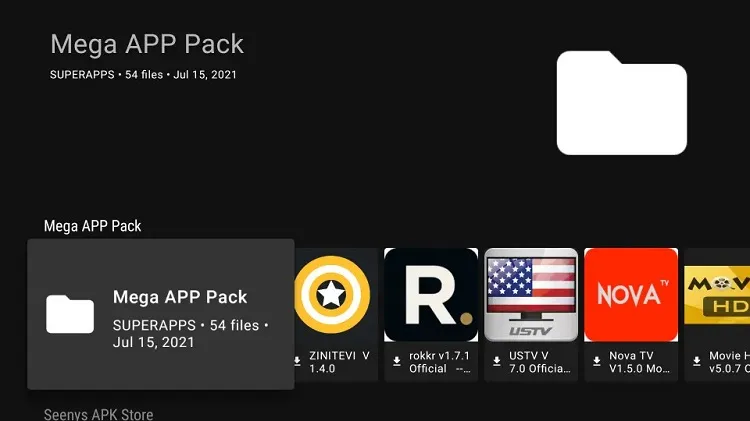 The pin 911911 serves as the Superapps code for accessing the Unlinked store's Mega App Pack. This store features a comprehensive collection of 54 FireStick applications, covering a wide range of categories. Among these categories are Movies/TV shows, Live TV, Live Sports, Cartoons, and Anime, as well as Utilities.
Code: 96960000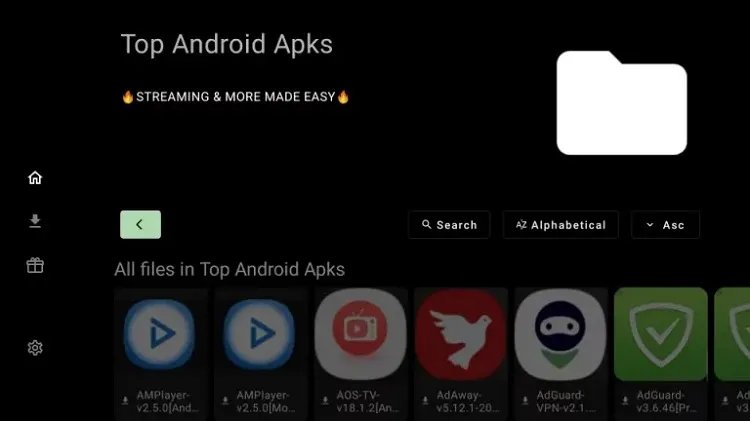 This last unlinked code we have mentioned is Top Android Apks. This code has more than 299 applications with 16 categories. These include Ad-free, anime, browser, live tv, mobile, movie. music, official, sports, tools, VPN, as well as media players.
If you're looking for a seamless TV experience without the hassle of dealing with link codes, iviewHD IPTV service is an excellent choice. It offers 1000+ live channels and 3000+ VOD, including options for PPV (Pay-Per-View), sports channels, movies, and TV shows, all with excellent stability and no freezing or buffering. With a diverse range of TV programs, you can ensure you never miss your favorite shows and events. The service provides high-quality streaming and a user-friendly interface, making it the perfect choice for entertainment enthusiasts.
Related reading: 
More Unlinked Codes
I have previously provided information about the top Unlinked Codes. Now, let me present you with additional codes that you can utilize:
DF9C7131
72727272
F398174F
99999999 (Pin: 88888)
9135f6a0
33627466
customforks19.3
e89349b6
Tools3333
dagoberts
How to Add Library Codes to Unlinked
Below, you'll discover guidance on how to download and install Unlinked. After successfully installing the application, the subsequent steps involve entering the code for accessing the new library. If you're intrigued, feel at liberty to proceed with reading the article below:
Launch the Unlinked app. Select Add a new library.

A field will display on the screen to type in the code. Click Next.

With the help of the on-screen keyboard and your FireStick remote, type in the Unlinked code. Click Next.

The added library will display on the screen. Now you can explore the store.

Your FireStick / Fire TV is now set up for streaming your favorite content. However, I want to caution you before you begin. Remember that everything you watch online can be seen by your ISP and the Government. This means that streaming free movies, TV shows, and sports could potentially lead to legal issues.
Thankfully, there's a reliable solution to keep your streaming activities private from both your ISP and the Government. All you need is a quality VPN for your Fire Stick. A VPN will disguise your original IP address and help you evade online surveillance, ISP limitations, and content restrictions based on location.
So, before you begin streaming on your Fire Stick / Fire TV, let's explore how to use a VPN to safeguard your streaming activities.
Power ON your Fire TV Stick and go to Find followed by the Search option.

Now type "Expressvpn" (without quotes) in the search bar and select ExpressVPN when it shows up in the search results.

Click Download to install the ExpressVPN app on Fire TV / Stick.

Open the app and enter the login credentials that you created while buying the ExpressVPN subscription. Click Sign in.
Click the Power icon to connect to a VPN server. That's all. Your connection is now secure with the fastest and best VPN for FireStick.

Popular Alternatives to FileLinked
Given the recent cessation of FileLinked functionality, you may be exploring alternative options. These substitutes are equally cost-free and facilitate the downloading of third-party applications on your Firestick. Employing a VPN on your Firestick is highly advised to safeguard your streaming endeavors. Herein, we provide a compilation of alternative choices for your deliberation:
1: AppLinked.
2: Downloader.
3: Aptoid TV.
4: UnLinked.
5: APKTime.
6: FileSynced.
7: APKPure.
8: APK Archive.
Video: How to Install Unlinked and Add Your First Library
FAQ about Unlinked Codes
Are Unlinked Codes Legal?
Indeed, Unlinked codes are deemed lawful for installing apps and accessing movies and TV shows that fall within the public domain. TROYPOINT unequivocally discourages and does not endorse any illicit activities pertaining to the streaming or downloading of copyrighted content.
Do You Need a VPN for Unlinked Codes?
It is highly advisable to employ a VPN in conjunction with Unlinked codes. A VPN, or Virtual Private Network, serves to fortify your online privacy and security through the encryption of your internet connection and obscuring of your IP address. Given that Unlinked codes may grant access to diverse streaming sources, which could include copyrighted content, a VPN serves as a precaution against potential legal complications. Furthermore, it shields your personal data from potential exposure to third parties. Ultimately, the use of a VPN elevates your online security, guaranteeing a safer and more private streaming experience when utilizing Unlinked codes.
What Devices can Unlinked be Installed on?
Unlinked is available for installation on any Android-powered device. This includes the Amazon Firestick, Fire TV, NVIDIA Shield, Chromecast, Android TV Boxes, tablets, phones, and more.
How do you use unlinked code?
Select the app you want to get and click download.
Now, downloading will begin.
Once the download is complete, select the app again and select Launch.
Click INSTALL.
After installation, click DONE to launch it later.
What is the unlinked app?
Unlinked is a free utilities and tools app that acts as a download manager for media libraries, which contain files such as images and videos.
How do I install unknown apps on FireStick?
Go to Settings: Navigate to the top menu on the FireStick home screen and select "Settings."
Select My Fire TV: In the Settings menu, scroll right and choose "My Fire TV" or "Device" (depending on your Fire TV model).
Choose Developer Options: Under "My Fire TV" or "Device," select "Developer Options."
Enable Apps from Unknown Sources: In the Developer Options, locate the "Apps from Unknown Sources" option and turn it ON. A warning message will appear; you can confirm your choice.
Confirm Your Choice: Confirm enabling apps from unknown sources by selecting "Turn On."
Return to Home Screen: Press the Home button on your remote to go back to the FireStick home screen.
Search for "Downloader": Utilize the search function (magnifying glass icon) at the top left corner of the home screen and search for "Downloader."
Install Downloader: Download and install the "Downloader" app from the Amazon Appstore.
Open Downloader: Launch the "Downloader" app.
Enter URL: In the Downloader app, input the URL of the app's APK file you wish to install. Ensure the source is trustworthy.
Download and Install: The Downloader app will download the APK file. Once the download is complete, you'll be prompted to install the app. Select "Install."
Open Installed App: After installation, you can open the app directly from the Downloader app or from your FireStick's "Apps & Channels" section.
What is the AppLinked code for sports?
AppLinked Code 8888. Code 8888 contains a variety of application channels that offer renowned sports events, including BBC iPlayer, S Sport Plus, Hulu, and more. It's a great option for sports enthusiasts to consider.
Conclusion
Elevate your streaming experience in 2023 with the Best Unlinked Codes. Unlinked offers a reliable alternative for seamless app installations, surpassing Filelinked in usability. Prioritize online safety by using a VPN like ExpressVPN, especially when accessing IPTV subscriptions. With Unlinked, effortlessly install preferred APKs across categories from movies to file management, enhancing your IPTV UK subscription. Embrace the future of hassle-free installations with the Best Unlinked Codes of 2023.