After Paid, Please contact 

support@bestiptviview.com

 Or Whatsapp

+15302353628

for the Family Package Subscription Code
Family Package #1

Family Package #2

Family Package #3

US$284.98
2 Connections
1 x Plus 12months subscription
1 x Sub 12months subscription
7Days Catch-Up
1000+ Live & 3000+ Movies,TV Serials
Save 60% for Family more Devices

US$369.97
3 Connections
1 x Plus 12months subscription

2 x Sub 12months subscription

7Days Catch-Up
1000+ Live & 3000+ Movies,TV Serials
Save 60% for Family more Devices

US$449.96
4 Connections
1 x Plus 12months subscription
3 x Sub 12months subscription
7Days Catch-Up
1000+ Live & 3000+ Movies,TV Serials
Save 60% for Family more Devices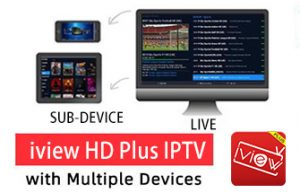 This IPTV Subscription Package is mainly for families.
When you have our iViewHD Plus version subscription code, you can buy Sub-Device code(s) on the Second/Third Devices for your family!
Buy an Annual subscription now or Purchase the other IPTV subscription plans here.
Note: One code is only for one device
With the family package, you can use our IPTV Plus version as Multi-Room IPTV/Multi- Devices IPTV, Saving money and Enjoy more Family Fun!
Now: This Multi-Room IPTV service is available for a free trial for 3 days. Go into Action!
Tip: This post will show you about Multi-Room IPTV Complete Guide.

Advanced learning:
How to use/get iView IPTV for free?
How to use the iView IPTV PVR function?
How to use iView IPTV on firestick?
How to install iView APK on Android?